4 servings
Ingredients
Pineapple Dipping Sauce:
1 clove garlic
1 (8-ounce) can crushed pineapple packed in juice
3 Tablespoons water
2 Tablespoons reduced-sodium soy sauce
1½ teaspoons cornstarch
¼ teaspoon ground ginger
Pancakes:
1 medium zucchini
1 medium beet
1 medium carrot
2 green onions
3 leaves of kale, chard, or beet greens
3 large eggs
1 teaspoon low-sodium baking powder
4 ½ teaspoons canola oil, divided
2/3 cup whole wheat flour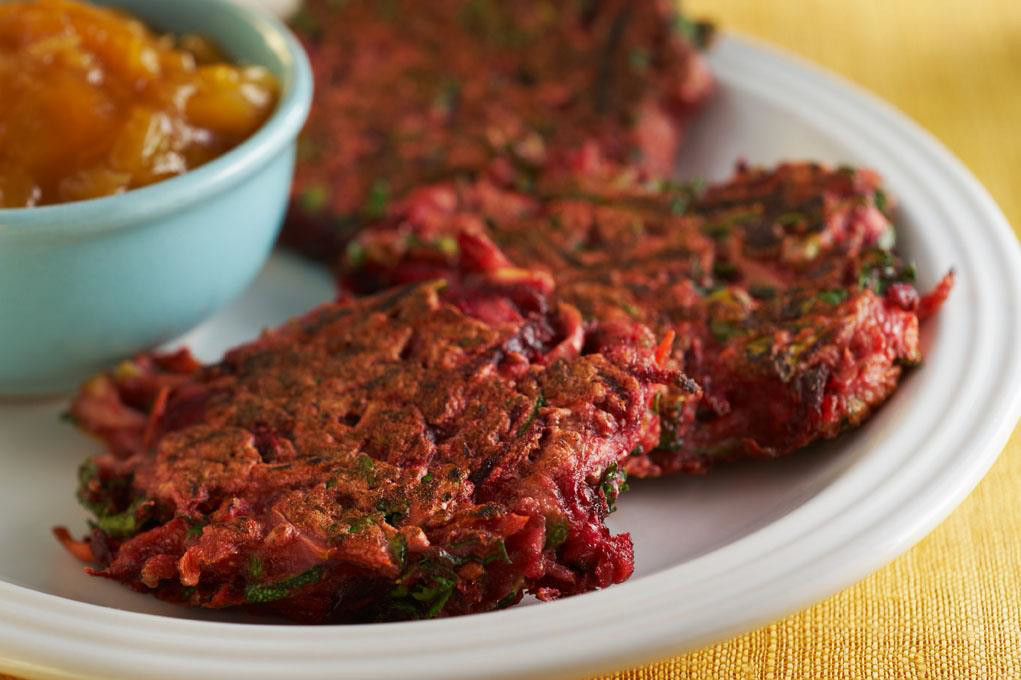 Directions
Make sauce first. Peel and mince garlic.
In a small saucepan, add garlic, pineapple and its juice, water, soy sauce, cornstarch, and ginger. Stir well to dissolve the cornstarch. Bring to a boil and cook for 1 minute. Remove from heat. Cover to keep warm while you make the pancakes.
Rinse and grate the zucchini. Rinse, peel, and grate the beet and carrot.
Rinse and thinly slice green onions.
Rinse greens and remove thick stems. Stack leaves together, roll into a thick tube, and slice thinly.
In a large bowl, beat eggs with a fork. Stir in vegetables.
Add baking powder, and 1 1/2 teaspoons of the oil. Stir until well mixed. Stir in the flour until just combined to make the batter.
In a large skillet over medium heat, heat 1 teaspoon of the oil. Scoop about 2 tablespoons batter and add to pan to make one pancake. You should be able to fit about 4 pancakes in the pan at a time. Cook until browned on both sides, 2 to 3 minutes per side. Remove pancakes.
Repeat step 8 twice more to make 2 more batches.
Serve pancakes warm with the sauce.
Chef's notes:
Use whatever veggies you have on hand. You will want about 4 cups total shredded vegetables.
You can keep pancakes warm between batches in an oven set to 200°F.
Try serving these with applesauce or low-fat sour cream instead of the dipping sauce.
Download Recipe