4 Servings
Ingredients
1 Tbsp butter or olive oil
1 large onion diced
1/2 large bell pepper diced
1/2 jalapeno finely diced
1 Tbsp all purpose flour
1 tsp cumin
1/2 tsp oregano
3 to 4 cups vegetable broth
1 cauliflower roughly chopped
Salt and pepper
2 Tbsp heavy cream (optional)
1/2 cup cheddar grated
2 to 3 scallions chopped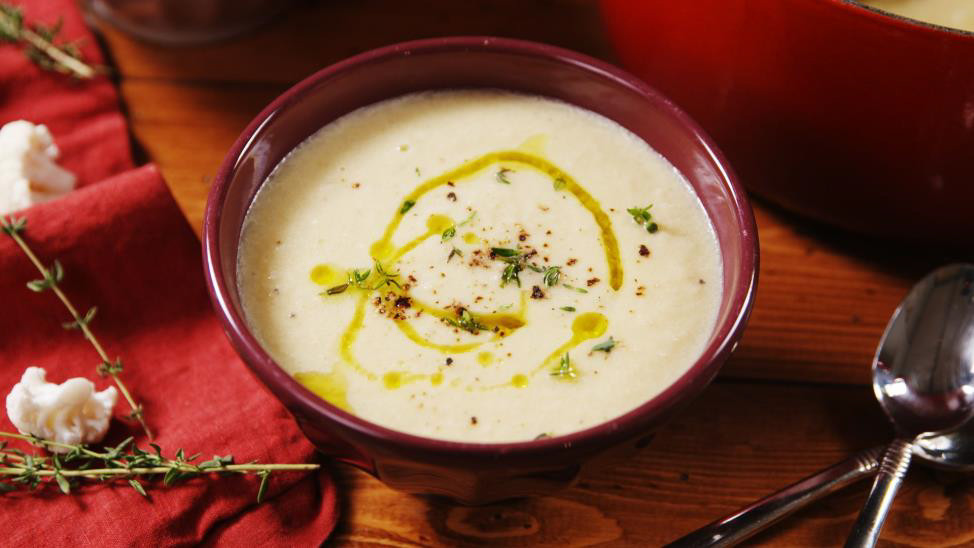 Directions
Heat the oil or butter in a large pot on medium heat. Once the oil is hot, add the onion. Let the onion cook until translucent, about 5 minutes. Add the bell pepper and jalapeño, then let everything cook until it starts to brown.
Sprinkle the flour over the vegetables and stir. Don't worry if it seems a little dry. We're about to add some moisture. Next, sprinkle the cumin and oregano over the vegetables and flour and stir.
Drizzle a bit of broth into the pot to get the sticky vegetables off the bottom of the pan, then add the cauliflower. Stir it all together and let it cook for about a minute with the lid on.
Finally, add the rest of your broth and cook for about 10 minutes, or until the cauliflower is soft.
With an immersion blender, blitz the soup until creamy (don't worry about getting every last piece). Taste it, then add salt and pepper and heavy cream (if using). If you like your soup a little thinner, add a bit more broth. Taste and adjust salt and pepper to your taste.
Sprinkle cheddar and green onions on top before serving, preferably alongside a sliced and toasted baguette.
Download Recipe