4 servings
Ingredients
8 medium strawberries
3 Tablespoons unsweetened cocoa powder
2 Tablespoons sugar
1 large egg
½ cup low fat milk
1 teaspoon ground cinnamon
Non stick cooking spray
4 slices whole wheat bread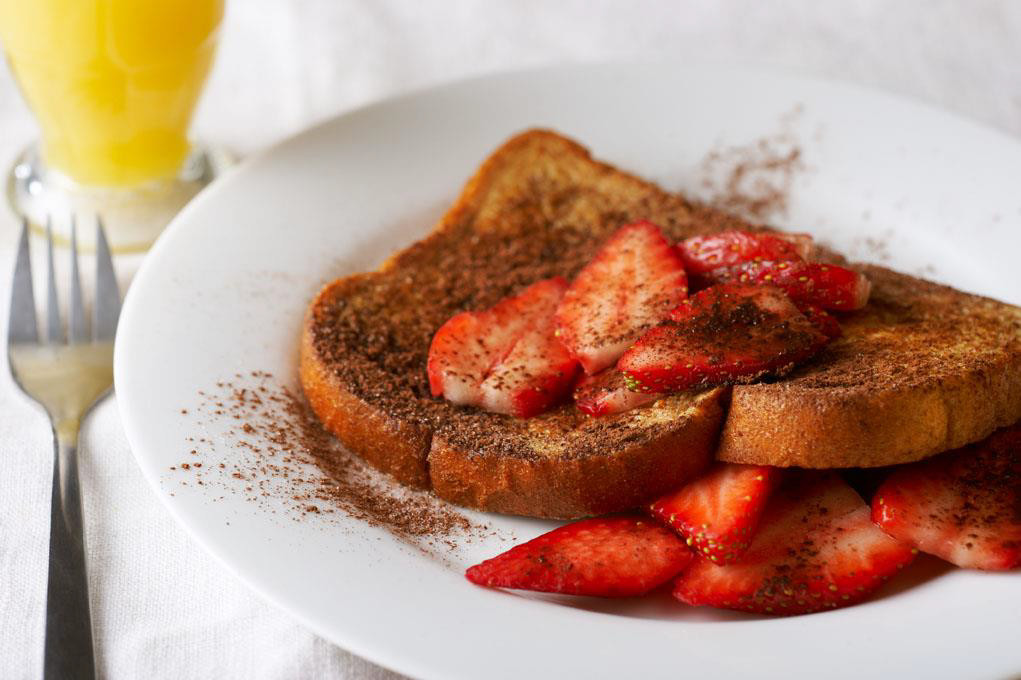 Directions
Rinse strawberries. Cut off leafy tops. Slice ⅛ inch thick.
In a small bowl, whisk cocoa powder and sugar together with a fork. Set aside.
In a second small bowl, beat egg with a fork until well blended.
Add milk and cinnamon to egg. Beat about 1 minute more.
Coat medium skillet with non stick cooking spray. Heat over medium heat.
Dip one piece of bread in egg mixture. Flip to coat both sides. Remove from egg mixture, shaking off any excess egg coating. Place quickly in hot skillet. Cook until golden brown, about 2-3 minutes per side. Remove from pan.
Repeat steps 5 and 6 until each piece of bread has been cooked.
Top each piece of bread with 3 Tablespoons sliced strawberries. Dust generously with cocoa mixture.
Chef's notes:
When strawberries are not in season, top with any seasonal fresh fruit. Or, use thawed frozen or canned fruit. Be sure to drain before using.
Toss 1-2 cups fresh fruit with 1-2 Tablespoons honey or maple syrup. Set aside while you make the French toast. Top with sweetened fresh fruit instead of the cocoa mixture.
Try making a fruit syrup to use in place of the cocoa mixture. Wash, hull or pit, and slice 1½ cups fresh or frozen fruit like blueberries, strawberries, peaches, or plums. In a small skillet over low heat, cook fruit with ⅓ cup sugar and 1 Tablespoon water. Cook until sugar dissolves and juices from the fruit thicken slightly, about 5 8 minutes. Cool slightly before spooning over French toast.
Download Recipe