Prep Time: 35 Minutes I Makes: 6 servings
Ingredients
1 1/3 cups chicken broth
1 cup salsa
1 cup brown rice
1 cup onion
3/4 cup corn
1/2 cup zucchini, chopped
1/2 bell pepper, chopped
15 oz can low sodium black beans
Optional: 1 tablespoon cilantro, chopped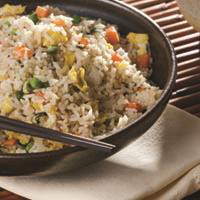 Directions
In a medium saucepan, bring broth, salsa, rice, and onion to a boil over medium high heat. Reduce heat and simmer, covered, for 20 minutes.
Stir corn, zucchini, bell pepper, and beans into hot rice and replace cover; let stand for 5 minutes.
Stir in cilantro and serve immediately.
*Fresh, frozen or canned corn can be used in this recipe.
Download Recipe