Prep Time: 60 Minutes I Makes: 6 servings
Ingredients
1 pound lean ground beef or ground turkey
1 cup chopped onion
1 can (15 oz.) kidney beans, rinsed and drained
1 can (14 1/2 oz.) diced tomatoes with garlic
1 can (14 1/2 oz.) tomato sauce
1 cup water
1 to 2 tablespoons chili powder
1 1/2 teaspoons dried basil leaves or dried oregano leaves
1/4 teaspoon pepper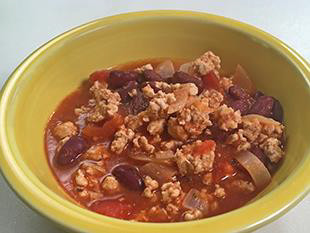 Directions
In Dutch oven or large pot, cook ground beef or turkey and onion over medium heat until the meat is no longer pink, stirring frequently to break meat into bite sized pieces. Drain off any fat, carefully keeping meat in pan and pouring off any liquid.
Stir beans, undrained tomatoes, tomato sauce, water, chili powder, basil (or oregano) and pepper into meat mixture.
Cook meat mixture, uncovered, over medium high heat until boiling. Reduce heat. Gently boil about 20 minutes, stirring occasionally.
Ladle into 6 soup bowls.
Download Recipe