Prep Time: 90 Minutes | Makes: 8 servings
Ingredients
1 tablespoon olive oil
1 onion, peeled and chopped
2 garlic cloves, peeled and minced (finely
chopped)
1 celery stalk, chopped
2 teaspoons curry powder
1 teaspoon dried basil
1 large butternut squash, peeled, seeded, and cubed, or 1 (20-ounce) package precut squash
1 tart apple, cored and cubed (with the stem and hard center part removed)
8 cups chicken or vegetable broth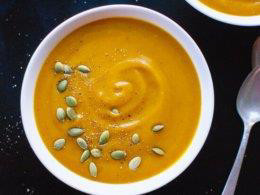 Directions
Put the pot on the stove and turn the heat to medium. When it is hot, carefully add the oil.
Add the onion, garlic, celery, curry powder, and basil. Cook, stirring occasionally, until the vegetables are tender, 10-12 minutes.
Add the butternut squash, apple, and broth and raise the heat to high; bring to a boil.
Turn the heat down to low and cook until the squash is very tender, 45 minutes. Set aside to cool down a bit, at least 15 minutes, at room temperature. Stir occasionally to help the mixture cool.
Using the slotted spoon, very carefully remove the soup solids and put them in the blender or food processor. Do not fill more than halfway.
Gradually add the cooking liquid. Blend or process until completely smooth.
Serve right away, or cover and refrigerate up to 3 days.
Download Recipe